Custom advertising campaign example
Main info
The page you are viewing is an example of some of the custom campaigns we can run for our business partners. Each page on our site has its own background and supporting graphics, but when a campaign is running, all those more than 11.000 individual pages will be turned into the same campaign.
Whichever way a visitor finds his way to our site, be it in the T1 trivia section or on a total other section, downloading images from T3, they will ALL see the campaign running. Thats a sure hit for any product!
Example?
Depending on the screen resolution, visitors will see only a banner, part of or the full background. Most Terminator fans are tech-savvy and thus have large monitors and resolutions available.
Below you can find an example of a 1680-1050 resolution. This is the maximum size we use throughout our entire fansite. Click to enlarge (opens new tab/window).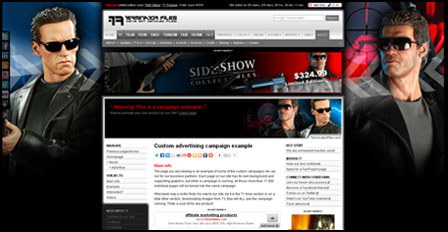 Interested?
Want to know more about what we can do for your product and/or promotion? Check out our advertising page, which has many more examples like this... or contact us right this instance to get into contact about running your own campaign. We are looking forward to hearing from you!
Notice
This specific example page overrules any and all currently running campaigns or promotional interfaces. If you want to check out a current running campaign, if any, please return to the homepage... or open any page that is not related to advertising.
The campaign worked for all browsers... but on this example page it no longer validates. This due to the fact that part of the 'mapping' used for the multi-banner on top does not work in Google Chrome. During the campaign we DID have some special PHP in place that handled different coding for Google Chrome specificly, but we have not implemented this in this example page (would be too much work, not that important). For any programmers interested; check the source of this page to review that specific coding... ;).