Custom advertising campaign example
Main info
The page you are viewing is an example of some of the custom campaigns we can run for our business partners. Each page on our site has its own background and supporting graphics, but when a campaign is running, all those more than 11.000 individual pages will be turned into the same campaign.
Whichever way a visitor finds his way to our site, be it in the T1 trivia section or on a total other section, downloading images from T3, they will ALL see the campaign running. Thats a sure hit for any product!
Example?
Depending on the screen resolution, visitors will see only a banner, part of or the full background. Most Terminator fans are tech-savvy and thus have large monitors and resolutions available.
Below you can find an example of a 1680-1050 resolution. This is the maximum size we use throughout our entire fansite. Click to enlarge (opens new tab/window).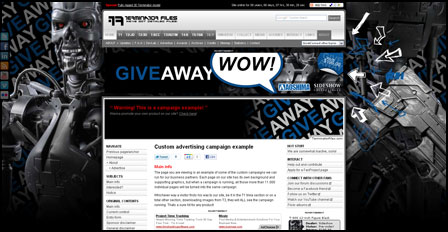 Interested?
Want to know more about what we can do for your product and/or promotion? Check out our advertising page, which has many more examples like this... or contact us right this instance to get into contact about running your own campaign. We are looking forward to hearing from you!
Notice
This specific example page overrules any and all currently running campaigns or promotional interfaces. If you want to check out a current running campaign, if any, please return to the homepage... or open any page that is not related to advertising.
Below follows the original contest contents, excluding possible entry forms.
Main info
In collaboration with Sideshow Collectibles, TerminatorFiles is proud to deliver our latest cool contest... which this time around is a special give-away celebrating the launch of our new fansite!
Current contest
Get ready for a blast! Sideshow Collectibles has provided us with the oppertunity to give away one (1) super prize, an Aoshima T-800 Endoskeleton 12-inch Figure, Black Version

... worth $199.99 sales price!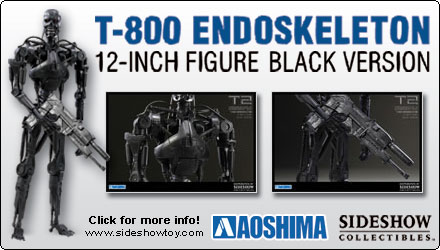 Normally we would (or could) give this some 'competition value', with a real hard question or puzzle that needs to be solved... but we are not gonna do that. This time its simple: Enter the fields in the form below. After 1 week we will randomly select a winner, who will be contacted by TerminatorFiles or Sideshow Collectibles for further details. Simple as that!
Before entering, please refer to the contest disclaimers below. By entering the contest, you hereby accept these Terms & Conditions as set forth below.
Entry form
Enter the form below and take a chance at becoming the winner! Page will reload after submitting, soo scroll down to see if everyting went well.
THIS SECTION HAD A FORM. IN THIS EXAMPLE IT IS NO LONGER AVAILABLE.
Sponsor disclaimer
Sideshow Collectibles has its own disclaimer when it comes to delivery of the contest prize or give-away. Some limitations (delivery, shipping, country, tax) may apply to you.
Delivery for the contest winner
The winner must allow 4-6 weeks after announcement of win to receive the product from Sideshow Collectibles. All prizes are non-transferable, with no cash redemptions and/or substitutions except at Sponsor's sole discretion. See below for more International Shipping Terms. To get the latest news from Sideshow Collectibles, join our Newsletter

!
Delivery time & Restrictions
All continental US orders are shipped via either UPS or FedEx ground service. Because FedEx cannot provide tracking numbers for P.O. Boxes, Sideshow Collectibles will no longer ship to a P.O. Box. Please provide your street address or your shipment will be delayed. For FedEx Ground deliveries, please allow up to 6 business days for delivery from the date your order is shipped.
International Shipping Restrictions
Any International winner, outside the US, will be responsible for the shipping costs. Please see additional details below. At this time we are unable to make shipments to Venezuela, Nigeria or Mexico. Please click here

for further International shipping information and restrictions.
All taxes are the responsibility of the winner. All prizes are non-transferable, with no cash redemption and/or substitutions except at Sponsor's sole discretion. All international winners will be responsible for any duties, tariffs, taxes or import fees assessed to their prize.
Further some countries outside of the U.S. do not have reliable mail services. In the event that a prize has been stolen or mishandled during shipment to an international destination, Sideshow may not be able to replace the specific item and will substitute a prize at its own discretion. If the winner prefers a specific quicker shipping method, they are responsible to notify Sideshow immediately, and will also be responsible to cover the additional costs if any.
At this time, we do not accept credit cards from Mexico. Refer to our Help Desk

for alternative payment options.
General disclaimer
Specific Terms & Conditions are set for all contests held by and/or available throught TerminatorFiles domains specificly (subdomains and derivative works included), excluding other domains or contestpages outside of the TerminatorFiles range or control. By entering one of our TerminatorFiles specific contests, you hereby accept these Terms & Conditions as set forth below.
Admissions
TerminatorFiles might use information gathered about you from your contest entry. TerminatorFiles reserves the right to use this information for future to be released mailings. As set forth by (Dutch) law, these mailings will include a link that makes it possible to exclude yourself from our mailinglist databases.
TerminatorFiles may email those that entered the TerminatorFiles specific contests. These emails include, but are not limited to, information on the prizes won, confirmation of entered data, transactions and/or announcements of any administrative kind.
MASS POSTING IS NOT ALLOWED! ANY 2 OR MORE ADMISSIONS WITH THE SAME EMAIL- AND/OR IP-ADDRESS WILL BE EXCLUDED FROM THE CONTEST! ANY ADMISSIONS AFTER CLOSING DATE SET FORTH PER CONTEST WILL NOT BE LIABLE FOR ANY PRIZES! TERMINATORFILES WAIVERS ANY RESPONSIBILITY RAISING OUT OF THIS WARNING!
Regardless of the information being transmitted through these TerminatorFiles specific contests, all such information will be protected consistent with applicable law.
Prizes
Final prizes might look somewhat different, but in general should contain those items as depicted in the specific contests or as shown at sponsors website. TerminatorFiles waivers any responsibility over the (accuracy of) the contents of the set prizes.
The means of defining a winner are set per contest. These method might include, but are not limited to, randomly chosen winner out of collected admissions or regional winners set forth within limitation per possible contest.
Winners will be contacted through email for more information on for example mailing address where the prize should be send. Winners that do not respond within one (1) week after the confirmation mail has been send, will lose their rights over the prize, and a running up winner will be chosen!
It is not allowed to contact TerminatorFiles about the currently running and/or closed contests, through online forms (contact included), interactive pages (Twitter, Facebook and forums included), by personal or direct mailing of information or by any other means. Your failure to do so, will result in a exclusion of the set contests. It will also have no influence what so ever over any decisions made.
Indemnification
You agree to indemnify and hold TerminatorFiles, its owner, directors, officers, employees, agents, team-members and representatives harmless from all claims, liabilities, damages, and expenses (including attorneys' fees and expenses) arising out of or relating to: (a) your use of the contests; (b) any damages or injury caused by, including but not limited to, any failure of performance, error, omission, interruption, defect, delay in operation of transmission, or line failure during admission of these contests; (c) any alleged breach of these Terms & Conditions.
Entire Agreement
TerminatorFiles reserves the right to change these specific Terms & Conditions, at any time, before, during or after currently or future running contests. These Terms & Conditions are appended with our main disclaimer.